BransonShowTickets.com is committed to saving you as much money as possible. As one of the fastest growing vacation companies in Branson, we have incredible relationships with area shows, lodging associations, and attractions. As a large buyer of seats, tickets, and room nights, we are able to pass on savings to you at no extra charge, and without any service fees. Save even more money when you use BransonShowTickets.com to plan your entire vacation or choose one of our vacation packages for a quick and easy getaway.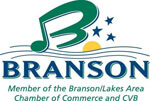 What We Do
We take the hassle out of planning your next trip to Branson by extending our experience, knowledge, and insights on how to best enjoy your Branson vacation.
Here is how we can help:
Plan and coordinate your entire Branson Vacation
Secure you the Best Seating Available
Provide Worry-Free Vacation Services
Why Choose Us?
We have only one goal here... to SAVE you MONEY on your next vacation to Branson, Missouri.
Here is why booking with us is the best choice:
We have amazing relationships with area merchants, vendors, and lodging companies which enable us to pass on greater savings to you.
Experience. Our vacation coordinators live, work, and play right here in Branson. Get real advice, tips, and insights from real Branson locals.
Absolutely ZERO service fees. We never charge a fee for our services.